Board construction elements
This is a really difficult topic. I tried to start working on it many times... It is impossible to categorize boards an infinite number of groups... So we will describe some boards construction elements and how will they affect board characteristics.

We do not feel an expert here, despite we cooperate with Pathron (PTN LAB) company in projecting of new hardboot freecarving and also softbbot carving boards. We will not go deeply inside the board for example how particular wood for core or fiber alignment will affect on board. Really good looking board with advanced geometry with progressive radius, rocker-camber-rocker construction, if made of bad materials, will not ride good, but average looking, classic camber not drawing attention, the board can be a great carver, for example, Donek Protheus, which we loved form firs turn and bought...

Let's start with race boards, describe their characteristics and how it affects on the ride, then main board construction elements, their parameters and how will it affect on board behavior. Such elements can appear in may combination in different boards, so until you will not try it on piste you can not tell if it is a good or bad board. But when you will know how every element will affect on the bard, you can quite precious predict the behavior of board on snow.

Race Boards.
This is the simplest part because they are quite similar. They are used for precise things. To ride through the gate course as fast as possible. The main parameters are defined by FIS International Competition Rules. We have two alpine disciplines: Parallel Giant Slalom (PGS) which is Olympic discipline and Parallel Slalom (PSL) which is not Olympic, was only once in Sochi. If FIS Regulations there is also triple slalom, but it is a rare thing.
Discipline rules changes sometimes. So the boards need also to be changed. Old GS boards like legend "yellow speedster" has radius 16m for 183cm length. Now it is approx 20m for GS boards because the distance between gates in GS due FIS ICR is 20-27m and 10-14m for SL.
FIS do not impose so many regulations for the alpine snowboard. The only limitation is the minimal width of boards. It is 14cm for boards with an effective edge length of less than 135cm and 16cm for longer boards. But truth is that most of World Cup boards have a width close to 20cm. It is really different than for FIS ski, where limitations are really big, affecting almost every point of equipment. It is why Race skis are not pleasant for tourist skiing, because of radius and width what affects the safety of your ride... And the technique is going back to the situation before "carving revolution" where a radius of ski was almost infinite and in world cup we can see riders forcing skis, with sliding in the first part of the turn and then use all power to keep it on edge. It is not a pure beautiful, light carving style... Do you remember "old" Carlo Janka in GS and Mr. GS - Ted Ligety? IT waw really clear carving. It was a pleasure to watch... For race snowboards situation is completely different. We love to ride race boards and it is not dangerous.

Giant Slalom boards are log turns with hi-speed, it is why they are long, with a big radius.
Slalom are quick dynamic turns with a small radius, with less speed so boards are shorter and have a small radius.

They almost all has a hybrid rocker-camber-rocker profile, progressive radius and titanal construction.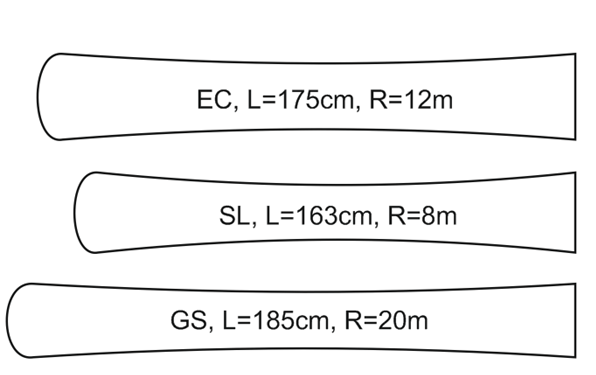 Boards width.
For Race Boards, it is known. Looks that 20cm is optimal width between edge change dynamic between turns and ride comfort - bindings angle. We can assume that narrow board could let us change edge during turns faster than wid boards, and narrow boards will be much more dynamic. But dynamic depend much more on board construction, what is inside a board: core and bonus things like carbon, titanal etc
The second thing is your boot shell length and bindings angles. For narrow boards, especially with long boot shell you need to set a greater angle than for wide boards.

Longitudinal stiffness
It is one of the most important parameters of the board. Different boards can have different stiffness. But also the distribution of the stiffness along board length can be different.
For example old boards, like Burton, had almost the same stiffness for all board lengths. But for example, a little newer "Yellow Speedster" center of the board (between bindings) was much harder than tail and nose.
Boards that are all lengths stiff will be much more stable for hi-speed and very hard snow than a board with softer nose and tail. But such boards will be much more dynamic than all length-stiff boards, and also better for soft and erratic/uneven snow.

Transverse stiffness.


It is a really important thing for on-edge carving ride. Boards for beginners, should have minimal transverse stiffness, because slide turn is transverse torsion of the board, make the board as a propeller. But for on-edge carving turns, the board should be angled the same for all board length (angle between board plane and ground plane). It important if the edge will "catch" the snow the same way (angle) for all edge length.
If we bend/tilt board a little angle and nose will be angled more than tail, the nose will "catch" the snow, but tail could not, and then the tail will slide outside tur, and it for suer will not be a carving on-edge turn...

For "extreme carving" when the board is angled almost 90degrees, transverse stiffness is not so important, because few degrees of difference for such a big angle will not matter a lot...



The very interesting thing is the kind of rubber element between core and edge. Its main purpose is to damp vibration, to have "soft" board which will go smoothly trough rough terrain. But it has also one big disadvantage. Transverse stiffness os board with such element is much lower, which will affect a lot on hard snow. It is used mostly for "extreme carver" boards.

Effective edge.


It is a part of edge that that contact with snow during the turn. This parameter, instead of overall board length, affect on the behavior of board during a turn. Long noses almost disappeared last years. Even from softboot boards. It is needed only for a powder ride. When carving, nose and tail is just an additional ballast with no affect on boards on-edge behavior.

For softboot baords, the effective edge is sometimes 2/3 or even less of overall board length!!! For racing boards, it could be even 90%. For example, let's compare effective length of softboot and hardboot SL 163cm board. For freestyle it is approx 108cm and for SL almost 145. It is 25% difference!!!

Rocker


"Classic" boards were "camber". When board on the ground, the center is lifted a few cm above ground level. Rocker is the opposite.

For camber, when board angled/tilted during a turn, all effective edge contact with snow, and the board will bend to the desired radius. Its tail and nose lifted up (rocker) then in the initial phase of turn they will not contact snow, the only center of the board will (camber part of the board). When board angled/tilted more and more, the more of the effective edge will contact with the snow. It will allow for smooth beginning of turn, instead of camber when the board will "catch" suddenly all edge length. For hybrid (rocker-camber-rocker) boards begin of turn will be much more precise. The board more angled, the more of the edge will contact snow, the radius will be smaller. The beginning of turn will be much progressive, smooth not rapid "zero-one" style, It is really important when Racing to ride the precise optimal line between gates.

The second thing is when board running flat. It is very rare in carving snowboard, but sometimes need to change piste, when we ride long, narrow and flat piste. For the rocker, a smaller area of the base is contacting snow so lower friction and more speed. And it is less probability of accidental "catching" of snow by nose/tail part of the edge, which is very dangerous when running flat.

Rocker construction is good for beginners when sliding. But not for on-edge carving turns. For carving best is camber or rocker-camber-rocker profile. Classic camber is very good for the beginning of carving adventure, because you will feel when board edge "catch" snow. It is important because most difficult to learn carving is the beginning of a turn.

Classic rocker does not exist in alpine snowboards. For almost all racing boards you will find rocker-camber-rocker hybrid profile. It can be various types of the curve. It can be a parabola, it can be clothoid like for Kessler or any other similar transition curve.

Board dynamic. It is also related to the board profile. Camber boards are bending during turn much more than rocker. Camber is something like an inverse board radius. To have all board contacted with snow, it needs to bend a lot. Rocker is the opposite. When board angled, it contacts with snow almost without any bend. So if it not bet, it will not give you back energy gathered by bending during a turn.

Progressive sidecut radius.


To have it explained as simple as possible. If you move your center of gravity forward or back you can adjust the radius of the board. The shape of edge will not a part of the circle but a combination of few circles with different radius, parabola, ellipse or clothoid. So the nose will have a different radius than the center or tail of the board. IT can be a really big difference.

What for? For racing. When you need to ride precisely between gates. In the beginning of turn, the rider is pointing board to optimal course, when there go center where the radius is biggest, but if the rider is "late on the gate" then can do more back where a radius is smaller than on center and tighten a turn without any slide or brake. Is it important for tourist carving? Not so much... But more important is that boards with progressive radius are riding much better than circle-radius, they have different characteristics, even if you are not using it, you will see the difference.

A combination of hybrid profile and progressive radius can be shown on KESSLER Shape Technology schema.
(http://www.kessler-swiss.com/en-US/technology)


Summary:
The truth is that behavior of board during a ride, depends on the resultant of all described elements. Let's take a look on totally different boards. Old SWAORD Extremecarver (new ones are almost the same) and KESSLER GS.
SWOARD is a simple construction board. Ii is twin-tip (bindings are centered without any setback), a symmetrical board. It has a circle sidecut radius, camber profile, "rubber" between edge and core, is a wide board and is not much stiff both longitudinal and transverse. It is very easy to ride, forgives us a lot, easy to turn but there is almost zero of dynamic on this board. Just to tilt a board and will turn on-egde, even up to the hill, by itself. Turns are the same, almost boring, board does not need to work on them, to turn.
KESSLER GS is a race board, from top-shelf, multiple Olympic and world champion, you can see it on almost every World Cup podium. It has patented Kessler shape, rocker-camber-rocker with clothoid profile, also clothoid sidecut radius, it has a really good transverse and longitudinal stiffness. It is hard to ride, need lot of control, require good technique from rider but precision, dynamic and stability of this board is just awesome. But what is fun, this board is also very good for extreme carving, it allows us to have a much greater radius than exterecarving board, which allows us to lay on snow much longer.

And what for tourist ride? Something between two boards described above.
The board that has dynamic like a race board, but "tourist" radius (progressive or circle) bigger than SL and less than GS, a width that allows us to ride extreme carving turns without big angles, which is easy to ride, with camber or hybrid construction.
There are boards like that, but we helped to create a new one. You can test it on every od shaman-snowboard.pl team event ;)

REMARKS:
Notice that SnowboardAcademy.pl website contents only chosen aspect of snowboarding. This is not an complex publication "how to snowboarding". The authors are responsible for any individual attempts of performing descibed snowboading elements of technique or equipment adjusting.

All rights reserved. Copyrights SnowboardAdacemy.pl
This website and it content are legally protected by Polish Law, currently effective Act on Copyrights and Related Rights.
Copying and further publication of its contents without a prior author's consent and source (www.SnowboardAcademy.pl) indication is strictly forbidden.
e-mail: info@shaman-snowboard.pl